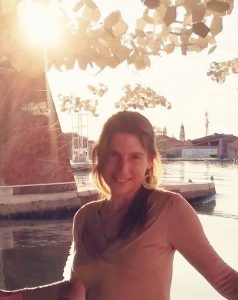 Eirini Bataki is based in Athens, Greece, she teaches and diffuses Expressive Movement - Rio abierto (Open river) method offering expressive movement classes and workshops for adults, teachers, adolescents and children. She has been certified by the Rio abierto school in Italy as an Expressive Movement trainer, Body counselor and Massage therapist (2005-2010), she then followed intensives courses in Argentina, Spain and Uruguay with the founder of the Rio abierto method Maria Adela Palcos and the famous dancer and choreographer Graciela Figueroa. Since 2006 she teaches at schools, where she tries to integrate movement and dance in the school subjects as a form of enriching learning and fostering emotional intelligence and transpersonal development of students and teachers. Therefore she writes articles and offers experiential workshops at national and international conferences for teachers and adolescents. She has studied German literature, has a MA in European Studies and speaks fluently English, German, Italian and Spanish.
She is also a dancer and a former teacher of Argentinian Tango. She loves to experiment with innovative dance forms such as Contact Improv and Skinner Releasing Technique. Her strong interest for body psychotherapy led her to complete the foundation training in Bodynamic method (2004) & start the training in Biosynthesis method as a body psychotherapist.
Past workshops and classes:
"Making our life a piece of art! Expressive Movement and Art therapy. February-June 2019, Crete.
" Awaking playfulness" Workshop for teachers at the European Conference for Democratic Education, Eudec, Crete, 2018
"The flow of giving and receiving" Workshop for teachers at the European Conference for Democratic Education, Eudec, Crete, 2018
"Moving classrooms: integrate Expressive Movement in you teaching", workshop held at the national conference for Education and Culture, Crete, 2017
"Integrating dance and movement in the teaching of foreign languages" June 2015, Sept& June 2016 ( 3 workshops for foreign language teachers)
"Weekly classes of Expressive movement –Rio abierto system at Megalo O Multispace and Phi Space, Crete, from 2013-2019
"Weekly Classes of Expressive Movement –Rio abierto system in collaboration with Cultural Center of Alimos Municipality and Studio Danzarin, Athens, 2010-2013.
School projects on Crete:
Art and Dance for a better communication, 2019 (adolescents)
I explore myself through Dance and Music, 2018 (adolescents)
Expressive Movement and Improvisation, 2015 (adolescents)
Discovering myself through Movement, 2014 (adolescents)
Expressive Movement for kids (4-8years old)