Expressive Movement classes - Rio abierto online.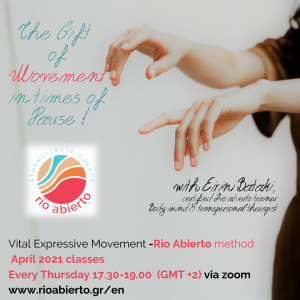 Online Expressive Movement Classes - Rio Abierto system
Εvery Thursday 17.30-19.00 (Greek time- +2GMT) via Zoom
With Eirini Bataki, certified Rio Abierto -expressive movement trainer, body -mind and transpersonal therapist- Greece.  Languages : Greek/ English
Dance is the fastest way to recharge our Body, clam our Mind and open our Heart to the Joy of Life that flows through us, surrounds and unites us, collectively as humanity. In these times of costant change , we need  the union of our body and soul more than ever.
Rio abierto (in Spanish Open River) is an exciting practice that facilitates this process! It combines the therapeutic (body-mind) approach, creativity (expressivity - dance) and the spiritual (transpersonal) approach, bringing us in touch with our unique beauty and interconnection as human beings.
Online classes of Expressive Movement will continue online from September 2021, providing us the opportunity to meet from wherever we are and be nurtured together.  A variety of tools are used such as:  guided and free movement, a vast range of music pieces,  voice liberation and breathwork, work with our chakras in movement, self massage techniques,  guided imagery in movement, relaxation and a precious group dynamic of sharing, among others. They are suitable for every age and level of experience in movement/ dance. Visit our webpage www.rioabierto.gr/en for more information.
Contact details for registering and receiving practical information on how to join at rioabierto.movement@gmail.com and +306938896610 !
Registration form/  First class without cost : https://forms.gle/DnKfxQCshgZmuFiY7
We continue to flow together, in the most creative ways that emerge in these times, from wherever we are!