Online sessions  (private and groups).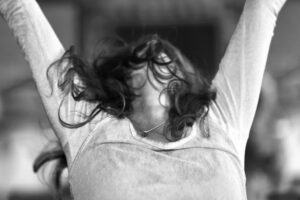 Online Sessions of Expressive Movement (individual and/or group mode)
When you dance, your body writes on the earth what your soul wants to tell!
Greek poet -K. Kavafis.
Individual and group sessions create a space for personal growth and flourishing. We work with expressive movement, body-mind therapy, deep listening and sharing to deal effectively with emotional distress, body tensions and/or unbalanced relationships.
Sessions are directed to adults of all ages, that are driven by the need for more expression, self-knowledge, more physical and emotional health, contact with their Essence.
Moving and expressing ourselves through our muscles, articulations, organs, cells, but also through the webs our emotions and thoughts, we cleanse and empower ourselves, giving voice to different parts of our Being. That is how our qualities and deeper aspirations do emerge.
Practical Info
Start: every time, online via zoom
Languages available:  Greek/ English/ Italian/Spanish
email: rioabierto.movement@gmail.com and +306938896610 (whatsapp ) for infos & booking
What is Rio Abierto?
An exciting movement practice that combines the therapeutic (body-mind) approach, creativity (expressivity - dance) and the spiritual (transpersonal) approach, bringing us in touch with our unique beauty and interconnection as human beings. Rio abierto integrates expressive movement, collective and free therapeutic dance,  music, massage and voice and breath work, relaxation and sharing, among others.
Facilitated by Eirini Bataki https://rioabierto.gr/eirini-bataki/
Eirini loves helping people to explore, unfold and express their qualities and create a healthier, more joyful and peaceful life through movement, dance, body psychotherapy, music and art. Eirini is certified in Body Mind Counselling- Expressive Movement (Rio Abierto method) since 2010 and holds workshops and classes both in Athens and in Chania, Crete, her place of origin. She is also a teacher of Argentine Tango and and a student of Body Psychotherapy.
More info @ https://rioabierto.gr/en/
We  flow together, in the most creative ways that emerge from our heart, from wherever we are!